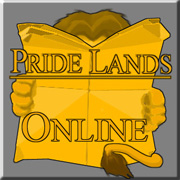 The Pride Lands Online
The Final issue of the Pride Lands Online was Issue 7 released January 18th, 1999. On behalf of all the staff members who participated in the production of the Pride Lands Online, I would like to thank all the readers for their support and encouragement as well as all the authors and artists who contributed all the wonderful material that really made the Pride Lands Online a success.

-Thumper, PLOL Editor
Enter The Pride Lands Online Archive
---


This FurRing site is owned by thumper@thumper.net.
Click for the [ Next Site | Skip a Page | 5 Ahead ]
Want to join the ring? go to the FurRing Home Page!