ANGÉLIQUE KIDJO: The Lioness Sings Tonight...
This review is a peculiar one... First of all, it's me, Logozo, who's writting it. David C.'s plushies are on a kind of, um, field trip for their next review, and well, I got the job for this one. I'll try to make a review of all Angélique Kidjo's albums in one shot.
Some of you may already know this african pop singer, and probably most of you don't. Though, you probably already heard Angélique's powerful voice at one time or another. This petite singer born in Bénin (small West african country), now living in Paris, has made couple of hits and some sountrack tunes. Her all-time hit is probably 'Agolo' a very joyous, playful and nice videoclip. And Kidjo also sung on 'Ace Ventura 2:When Nature Calls' (Ife song). Other soundtracks include Street Fighter (Worth Fighting For) and 'Journal Intime' (Malaika).
A very interesting fact, Angélique Kidjo is also on the French version of 'Rhythms of the Pride Lands' CD, where she recorded 'Hakuna Matata' in french with Debbie Davis. A single of this was also released in France (thanks to Damien for sending it to me ! ;-). I am a very big fan of her music, and I got very surprised and pleased of that TLK/Kidjo mix, combining two of my interests! On The Lion King Muck, I am also known as 'Logozo' and 'Shango' - two characters with names directly taken from Kidjo's song titles and also from two vodoun deities.

She grew in Benin, and was influenced by various music, would it be french variety, Santana, James Brown or Miriam Makeba. Such influences are showing in her music, combined with Benin's traditionnal music and rhythms. In her teens, Angélique Kidjo had already an LP record to her account: Pretty. Nearly impossible to find outside of Africa, it features a young Kidjo that lacks a bit of experience. The most important step was when Kidjo decided to go to France (for various reasons). She studied some opera (!), and also jazz music. Both of these areas really show up in her music.

Her first album on "occidental" label is 'Parakou' (1989) and has nice tunes in it - some are reprised (and reworked heavily) from Parakou. However, it's probably the hardest to find in her 'available records', and also I recommend it's the latest you should buy, because if you're not used to Kidjo's music, you probably won't enjoy it too much. Parakou is the immediate following to Kidjo's musical experiences in afro-jazz (with Jasper Van't Hof) and the group Pili-Pili. The sound is not as 'technically polished' as the others, neither every the songs outstanding, but it's still a nice package. My favorites on this one are 'Alindjo', 'Blewu', 'Yonnoun' and 'Tanyin'. This album may sound as the most 'traditionally african' of all her releases, because she uses more acapella singing only accompanied by drums, and less 'occidental beats, arrangements and/or instruments' found in her latest CDs.
It's really with the second album, Logozo (1991), that Angélique Kidjo came to be popular. Her songs 'Batonga' and 'Wé-Wé' were quite popular in dance clubs, and two clips were also made. The content of the CD is usually quite politically oriented - Kidjo comes from a country that has been long time under a marxist regime - and she speaks against oppression and inequalities. All in Fon, Mina, Swahili or Yoruba, the Fon beeing Kidjo's native language. Angélique Kidjo speaks French, English, some German, Fon, Mina, Yoruba and Swahili. Phew!
At some times, Kidjo seems to repeat a bit or go into a 'middle of the road' stuff, with 'Élédjiré' or 'Kaléta'. Also, she doesn't have especially original melodies or striking rhythm, but the overall is pleasing. Interesting to note that some stars of the african pop music/jazz are making cameo appearances, like Ray Lema, Manu Dibango and Brandford Marsalis.
The CD has nice soft songs, like the classic 'Malaika', or the Togolese love song 'Sénié', and 'Logozo'. On the other paw, 'Batonga', 'Wé-Wé' or 'Tché-Tché' are really made for you to dance!
Next came the real hit, which made Kidjo a real place on bill boards. 'Ayé' ("Life") (1994) is the album that has Agolo on it. 'Agolo' was made into a clip, and it is a real treat for the eyes! African dancers covered with clay, vodoun symbolism, masks, all mixed with computer imagery, make 'Agolo' hard to forget! The song kept in the top 30 here (Canada), and got success particularly in Canada, Autralia and Holland. 'Agolo' appears on the soundtrack CD of the movie 'The Air Up There' even though it's not in the movie itself. Odd.
Again, the songs on Aye are quite various, ranging from the rhythmic 'Agolo', 'Adouma' and 'Yémandja' to the smooth and sad 'Azan Knan Kpé', 'Idjé-Idjé' and 'Djan-Djan'. The CD ends with a very nice song, 'Tombo' which is a mix of jazz, funk and african rhythms. However, the album is not perfect either, with less inspired songs like 'Houngbati' or 'Tatchédogbé'. For those who enjoyed the dancefloor style of 'Logozo', they will be a bit deceived. If 'Ayé' archives a higher technical level, with less cheap synthetizer sound, the overall is more 'calm', less extravagant. 'Tombo' and 'Djan-Djan' are my really two favorites, along with 'Adouma' and 'Lon Lon Vadjro'.

The last incarnation of Kidjo's music is 'Fifa' which means Peace in Fon. For this album, Kidjo toured the Benin and recorded sounds, music and chants from all over the country to integrate them later in the songs. What's more, Angélique now sings parts of songs (chorus parts mostly) in english. Some of this process is successful, and some a bit less. Personnally, I still prefer when she sings in Fon. It's part of the 'package' if you want, and what makes Kidjo's music different. Though very catchy, 'Wombo Lombo' seems to be right out of US pop music industry, with grooves and rhythms too common for what Kidjo used me to. The first song, 'Sound of the Drums' is good, but sometimes the sounds recorded on the field (Benin) sticks out a bit of the more polished studio sound. 'Welcome' on the contrary, incorporates well the odd gospel-like chanting that comes from the North Benin to make a sad and strong tune. 'Shango' is, in my opinion, a very good 'Kidjo song'. It's a back to basis, a return to some of 'Logozo' sound, with speedy disco/funk music, where, as one critic says 'She roars like a lioness' :-). Indeed, Angélique is a doting lioness and she raises now her own lioness cub, Naima, to which she dedicated the last song of the album, a sweet lullaby.
The CD is good, and it's like a mix between 'Logozo' and 'Ayé'. I keep coming back to the songs, despite some weaknesses like 'Akwaba', 'Bitchifi' or 'Goddess of the Sea' that are missing emotional depth, punch, or originality compared to sometime simplier songs like 'Fifa' or the fast-paced 'Koro-Koro'.
In general, the kind of music she makes is not unlike 'Rhythms of the Pride Lands's 'He Lives in You', 'Busa', 'Noyana', or 'It's Time' - thus the reason Disney hired her to record 'Hakuna Matata'. Angélique does either inspired, spirited ballads and lullabies, or she sings songs that usually incite to... dance, move tap your foot ... and these songs usually stick in your head. It's in these tunes that she comes very close to 'Rhythms of the Pride Lands'. You get the feeling of a big party, where Kidjo and her band have a real fun!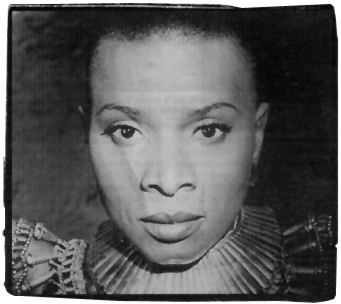 As another critic said once that listening to Kidjo is something, but seeing her on stage is another, and it's true. I saw her once in concert, and her energy, presence and performance on the scene is top notch. Her joyful mood is contagious, and she 'mingle with the commoners' either by going in the crowd or by pulling the public on stage to dance... definetly a great entertainment! (and no, I didn't dance with her). Nearly all of her dance-style tracks have that 'joyful and happy' mood, despite the often serious lyrics about racism and oppression. A strange duality that represent well the lady, if you ask me.
To know a bit more about the artist herself, we need to know a bit more about her homeland, the Benin. In 1960, the Benin got its independance from France's protectorate. The same year, Angélique is born. Over the next 30 yeras, the Benin falls under a Marxist / military regime, forcing the artists, like Kidjo, to promote 'revolutionnary' values. Young Kidjo decided then to quit for Paris, France in the early '80s. At first, she came to study... law. Soon enough, she switched to classical opera, and after two years, found in jazz her real passion. Today, Angélique is married to her bass player / arranger / composer Jean Hébrail.
Kidjo's texts, are talking of vodoun, love, politics, racism, tolerance, joy. Rarely in a mushy or cliche manner, her texts are usually naive and simple. Nearly all sung in Fon (or any other african dialect we can't understand ;-), the transcripts are in CD booklets, in both french and english. In 1995, Angélique Kidjo got her own web page, and she mainly promoted her latest/to come album. A good share of information is available there (http://www.imaginet.fr/~kidjo/), as well as sound clips, video snipsets (not very good quality, sadly), and supplemental information on herself. An interesting bit of info are the lyrics of the 'Fifa' album, in Fon (phonetic transcription), so you can now sing along Angélique...
Angélique Kidjo practices vodoun, by the way, and lots of her more recent songs are inspired of vodoun deities or rituals (e.g. Shango, God of Thunder). Vodoun is an animist religion about nature, well beeing and love, not the evil cult that horror movies used to describe (and no, I'm not a vodoun follower :-).
The lady has always been a active anti-racist, and very outspoken. Though it's a very nice thing, I read sometimes that she goes a bit overboard against 'white people' in her enthusiasm to go against racism, and that can be a bit painful to listen, as one friend told me once. And she's strong willed - in 1995, she refused to tour africa because the only sponsor that was offered to her was Phillip Morris, which she accused to sell double- nicotine cigarettes in africa. So not only her songs are engaged, so is she...
Angélique Kidjo doesn't make purely traditionnal african songs (except some renditions of traditionnal songs like 'Malaika' or 'Sénié'), she rather mixes multiple styles of music to come out with her own style. Angélique Kidjo wants to break down the walls that would restrain her in the 'folk' style, and develop a new kind of african pop music, a more open and accessible genre.
But for me, it doesn't really matters in what category music critics will put madame Kidjo, I'm a great fan. Angélique surprises at each of her discs, by remaining what she is, and always trying new stuff. However, Fifa can be seen not only as 'new stuff' but also a try to seduce a broader public. Singing in english, using more 'commercial' rhythms, Angélique may make compromises that are risky. I'm really eager to get a grip on her next album. Making a review of her albums is not the easiest thing: my comment would be 'Go on and try it...'
Logozo,
aka David S.
---
Official Angélique Kidjo's Homepage: http://www.imaginet.fr/~kidjo/
Unofficial Kidjo Homepage: http://www.otterspace.com/~dsauve/kidjo.html
(this is my fan homepage. Hopefully, will this article raise a bit the hits on the page? :-) You can find a sample of the Hakuna Matata in french, sung by Angélique Kidjo and Betty Davis...
...and yes, I'm a devoted fan :-)
---
Discography:
Parakou (1989) Tracks: Alindjo / Zanku /Doliéo / Agossi / Kpeti-Kpeti / Gogbahoun / Blewu / Yonnoun / Tanyin
Island Records; 848 219-2
Logozo (1991) Tracks: Batonga / Tché-Tché / Logozo / Wé-Wé / Malaika / Ewa Ka Djo / Kaléta / Elédjiré / Sénié / Ekoléya
Mango / Island;162-539 918-2
Ayé (1994) Tracks: Agolo / Adouma / Azan Knan Kpé / Tatchédogbé / Djan-Djan / Lon Lon Vadjro / Houngbati / Idjé-Idjé / Yémandja / Tombo
Mango / Island 162-539 934-2
Fifa (1996) Tracks: The Sound of the Drums / Wombo-Lombo / Welcome / Shango / Bitchifi / Fifa / Godess of the Sea / Akwaba / Koro-Koro / Naima
Mango / Island; 162 531 039-2
Angélique Kidjo is also on The Air Up There (Agolo), Ace Ventura 2:When Nature Calls (Ife), Streetfighter (Worth Fighting For), Ma Saison Préférée (Malaika) and Journal Intime (Batonga). She appears as well on the french version of Rhythms of the Pride Lands CD (Hakuna Matata).
** Angélique Kidjo's photo is by Karl Grant. All CD's Icons are directly from the Official Angélique Kidjo Web site. All pics are retouched.
---
The Pride Lands Online Multi-Media Archive
---