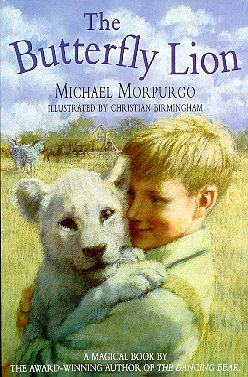 The Butterfly Lion
by Michael Morpurgo
Reviewed by Nigel Hodgetts
The Butterfly Lion tells the story of a small boy called Bertie who rescues a white lion cub from the African veld. The boy and cub are inseparable until Bertie is sent away to boarding school in England and the lion is sold to a circus. Bertie swears that he will never forget the lion and that one day they will see one another again, but it is the butterfly lion which ensures that their friendship will never be forgotten.
Although written as a children's story for ages 7+, this book will appeal to anyone who has more than a passing love of wildlife and particularly lions. The story spans Bertie's life from a small lonely boy in the African veld, through his school days, service in the Great War, and beyond. At once a love story, a ghost story and a story of human compassion, Micheal Morpurgo writes in a beautifully gentle style reminiscent of C.S. Lewis. The story never wallows in sentimentality, instead it takes the reader through a range of emotions from sadness to joy and awe. The pleasure of the book is enhanced by the many pencil illustrations drawn by Christian Birmingham.
---
An extract:
So the white lion came to live amongst them at the farmhouse. He slept at the end of Bertie's bed. Wherever Bertie went, the lion cub went too - even to the bathroom, where he would watch Bertie have his bath and lick his legs dry afterwards. They were never apart. It was Bertie who saw to the feeding - milk four times a day from one of his father's beer bottles - until later on when the lion cub lapped from a soup bowl. There was impala meat whenever he wanted it, and as he grew - and he grew fast - he wanted more and more of it.
For the first time in his life Bertie was totally happy. The lion cub was all the brothers and sisters he could ever want, all the friends he could ever need. The two of them would sit side by side on the sofa out on the veranda and watch the great red sun go down over Africa, and Bertie would read him Peter and the Wolf , and at the end he would promise him that he would never let him go off to a zoo and live behind bars like the wolf in the story. And the lion cub would look up at Bertie with trusting amber eyes.
"Why don't you give him a name?" his mother asked one day.
"Because he doesn't need one," replied Bertie. "He's a lion, not a person. Lions don't need names."
Bertie's mother was always wonderfully patient with the lion, no matter how much mess he made, how many cushions he pounced on and ripped apart, no matter how much crockery he smashed. None of it seemed to upset her. And strangely, she was hardly ever ill these days. There was a spring to her step, and her laughter peeled around the house. His father was less happy about it. "Lions," he'd mutter on, "should not live in houses. You should keep him outside in the compound." But they never did. For both mother and son, the lion had brought new life to their days, life and laughter.
---
The author prefaces the book with:
The Butterfly Lion grew from several magical roots: the memories of a small boy who tried to run away from school a long time ago; a book about a pride of white lions discovered by Chris McBride; a chance meeting in a lift with Virginia McKenna, actress and champion of lions and all creatures born free; a true story of a soldier of the First World War who rescued some circus animals in France from certain death; and a sighting from a train of a white horse carved out on a chalky hillside near westbury in Wiltshire.
---
The Butterfly Lion is published in Great Britian by Harper Collins
ISBN: 0006751032
Softcover, 128 pages
Price: £3.50
Also available as a package including the softcover book and an unabridged cassette of the story read by Micheal Morpurgo and Virginnia McKenna.
In the US:
Hardcover, 96 pages
Published by Viking Childrens Books
ISBN: 0670874612
List: $14.99
---
The Pride Lands Online Multi-Media Archive
---